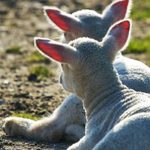 With lambing season approaching, it is time for us as dog owners to be vigilant and not let our pets near farms.
With spring just around the corner, here at Petfriendly Ireland we are gearing up for a year of new adventures and planning some great dog friendly walks around the country.
However, with spring also comes lambing season, which means it is also time for us to be vigilant when out walking with with our dogs in the countryside.
All dogs, from family pets to working dogs, can potentially cause a lot of distress and damage if they are not kept under control. At this time of year, sheep flocks have a lot of heavily pregnant ewes, many of which will start lambing in the coming weeks and months.
Sheep worrying by dogs can be a massive concern at this time of year. Even seemingly harmless family pets can cause serious damage if they turn on a flock of sheep.
A dog attack on a sheep flock is extremely stressful and can inflict savage injuries, often fatal. Aside from the economic losses for the farmer, for which dog owners can be held liable, the welfare implications for the flock can be very severe and long-lasting. Sheep never recover fully from a dog attack and can suffer ongoing difficulties, including reproduction problems and increased nervousness.
With up to 2.5 million lambs on 30,000 sheep farms across the country expected to be born by the end of the lambing season this year, it's important that we don't let our dogs cause any unnecessary stress for the sheep.
So, it's important that we keep the safety of the sheep flocks in mind and follow two simple rules when walking with our dogs near farmland:
keep to the footpaths
keep our dogs on leads at all times