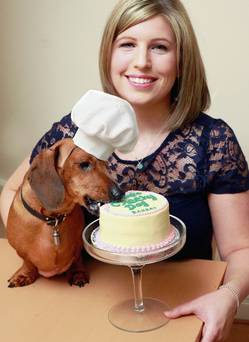 Recently at a DSPCA Doggie Day Out in St Enda's Park in Rathfarnham, Baxter and I came across a yummy new service just for dogs. Though we all know that cakes and sweets are not healthy for our dogs, it is great to see a new way of providing tasty treats for pooches.
Cheeky Dog Bakery began two years ago after dog lover Jenny McCarthy struggled to find a birthday cake to celebrate her dachshund Oscar's first birthday. Unable to find one, she decided to make her own. Much to Oscar's delight!
Inspired by her own attempt a baking a birthday cake for Oscar, she spent a year researching and testing recipes and acquiring all the necessary skills to set up her own dog bakery.
Jenny runs the successful Cheeky Dog Bakery online, selling everything from donuts to birthday cakes for dogs.
All her dog treats are hand made with dog friendly ingredients using only natural human grade organic ingredients, including carob, as dogs should never eat chocolate.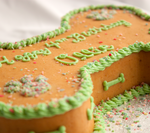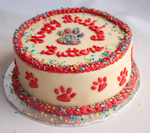 Jenny's dog treats include a Birthday gift box, which contains a large two-tier cake cookie, a large Happy Birthday bone with paw and heart detail, two gift cookies with bow detail, 12 peanut butter Mini Bites and two delicious Puppermint Donuts in vanilla and carob – all for €20.
If you would like to order any cakes, have a special request or special doggy dietary requirements, Jenny can also tailor make special goodies with a little help from Oscar of course!
You can check out all her canine goodies at www.cheekydogbakery.com